It's that time of year again! Please join us at The Hatchery for a hearty brunch and drinks as we celebrate 133 years of football, tradition, and rivalry (trash talking likely). Friends and family of both alumni clubs welcome!
Time: Saturday, November 19: "The Game" Harvard-Yale Celebration,  11:30am-2:00pm.
Ticket details: Please note that we are selling three ticket options - the first is for brunch with the regular drinks menu (order separately at The Hatchery), the second is for brunch with a 2-hour free flow drinks deal (including free flow prosecco, house wine, tea and coffee), and the third is for the 2-hour free flow drinks deal only.
The Place: The Hatchery, 88 Dongsi 9th Alley, Dongcheng District, Beijing 北京市东城区东四九条88号
Lastly, the Yale Harvard Alumni Fund Participation Challenge will be running again this year from November 10-19.
For more information about the challenge and how to donate, please see:
Yale: http://yhchallenge.yale.edu/ 
Harvard: https://community.alumni.harvard.edu/give/11042028/C17HY
Please scan this QR code with your phone or click the "Read more"  link below to register to this activity.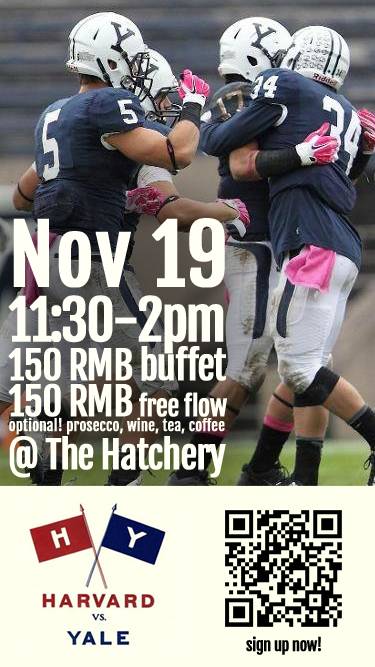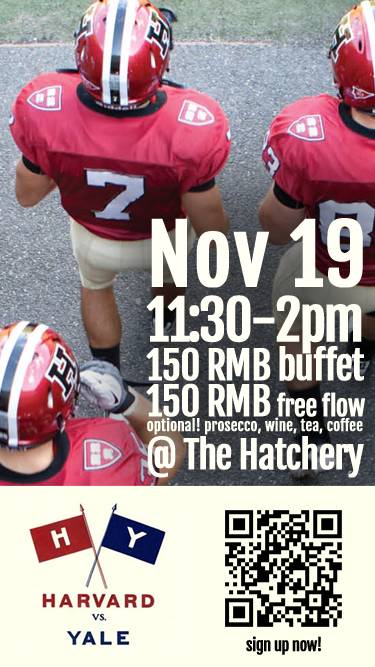 Contact Amber (YC) for questions (WeChat: amberli93)
For more information about The Hatchery: http://www.hatchery.asia/
We welcome all Harvard alums and affiliates to attend the event.